Great Escarpment of South Africa
The Drakensberg Mountains, which is the eastern portion of the Great Escarpment of the central Southern African plateau, is known as a majestic playground in South Africa. Located in KwaZulu-Natal, the Drakensberg is a well-known and beloved maze of rugged beauty, suited to both the adventurer and the historian.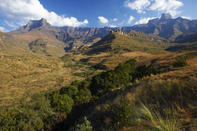 ©Roger de la Harpe
The Amphitheatre in uKhahlamba Drakensberg Park.
With ancient Bushman paintings in long-used caves, Boer war relics and accessible climbing peaks, the Drakensberg has it all. In the perceptual process of creation, the principal tools of nature have always been water, temperature and wind. There are numerous peaks, pinnacles, towers, spires, domes and walls to explore, with guided tours and multi-day adventures on offer throughout the area.
Holidaymakers wanting to escape into the natural wonder of South Africa need not look further than the Drakensberg. The area has several parks, nature reserves and rest camps made to meet the needs of any and all travelers. Whether visitors are on a romantic getaway, road tripping with friends, embarking on a solo adventure, or bringing the family along, accommodation in the Drakensberg promises to offer comfort tailored to the guests' needs.