The Drakensberg Experience is located in the midlands of the Kwazulu-Natal Province of South Africa. The route is centred on the Drakensberg World Heritage Site, which includes Giants Castle and the Central and Northern Drakensberg.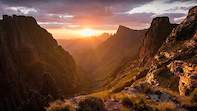 Mountain views of uKhahlamba-Drakensberg.
The Drakensberg Experience Route starts at Hidcote in the South, to Sterkfontein Dam in the North, including towns such as Estcourt, Winterton, Bergville, Weenen and Geluksburg, covering the area up to but not including the towns of Colenso and Ladysmith.
Known to the Zulu people as UKhahlamba, or 'Barrier of Spears', the Mountains of the Dragon (Drakensberg) provide a magnificent semi-circular border between KwaZulu-Natal and the inland mountain kingdom of Lesotho.
The watershed of the basalt peaks divide the rain and snow, some flowing westwards over the alpine plateau of Lesotho towards the Atlantic Ocean, and some down the vertical slopes into KwaZulu-Natal, toward the warm Indian Ocean.
This 200km long mountain range has witnessed many historical events in South Africa's history. The San people were probably the first to gaze upon its magnificence, but they tragically disappeared in the late 19th century, leaving only engraved rock walls and artifacts to remember them by.
The same range was also the western boundary of the mighty Zulu Kingdom who encountered the Boer settlers around 1837 on their Great Trek from the Cape Colony to undiscovered lands. The name Drakensberg was only coined forty years later however, when a Boer father and son reported seeing a dragon (a giant lizard with wings and a tail) flying high above the cloud-shrouded mountain peaks.
The inscription in late 2000 of uKhahlamba-Drakensberg Park as a World Heritage Site brought long-overdue recognition of its universal value to mankind.
Meeting the criteria for both natural and cultural listings, the site can now officially boast unique richness of biological diversity, the conservation of all-important endemic and threatened species and displays masterpieces of human creative genius in the form of 35 000 San rock art images.
Rolling high altitude grasslands, pristine steep-sided river valleys and rocky gorges also contribute to the beauty of this World Heritage Site.