Individual Rock Paintings Galore
One of the Drakensberg's greatest treasures is its cultural heritage. Some 20 000 individual rock paintings have been recorded at 500 different cave and overhang sites between Royal Natal National Park and Bushman's Neck.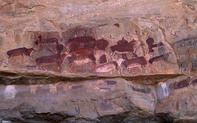 ©Roger de la Harpe
San (Bushman) rock art in uKhahlamba Drakensberg Park.
Subjects range from animals (mainly eland) to humans, therianthropes to ox-wagons and mounted men with rifles. In Ndedema Gorge 3 900 paintings have been recorded at 17 sites. One of them, Sebaayeni Cave, contains 1 146 individual paintings. In the Cathedral Peak - Mdelelelo Wilderness Area there are another 130 sites with a total of over 8 800 individual paintings. Other prime sites include the main caves in Giant's Castle Game Reserve, Battle Cave in the Injasuti Valley and Game Pass Shelter in the Kamberg Nature Reserve.
Rock Art Route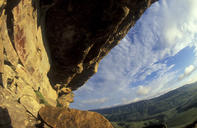 ©Roger de la Harpe
Game Pass Shelter in Kamberg.
In its entirety, the rock art route is circular, which more or less traces the outline of Lesotho, which in turn more or less follows the geological formation known as the Clarens Group, or Cave Sandstones. It is in this band of rocks that you will find most the important rock art sites of South Africa.
The ones on the KwaZulu-Natal (or Drakensberg) side are the most famous. You can drive from Royal Natal Park to Cathedral-Didima, then on to Injisuthi, Giant's Castle and Kamberg to see most of the best of them. Accommodation along the way is plentiful and varied - from camping to luxury hotels in the foothills. Take good hiking shoes.
Rosetta Stone of Rock Art
©Roger de la Harpe
Rock Art Centre, Kamberg.
The Rosetta Stone in the Southern Drakensberg's Kamberg Reserve has a magnificent frieze of giant eland and mythological figures. It was one specific eland and attendant half-man that proved to be the key that unlocked the door on the mysterious and deeply spiritual nature of San Rock Art. If you ever visit only one rock art site, this should be it, Kamberg Rest Camp has a comprehensive interpretive centre as well.
Eland Cave
You won't find Eland Cave on any official map, so closely is its location guarded. You can visit its rock art with a guide from the Cathedral Peak Conservation Office, though the walk is a hard one and the round trip will take all day. Row upon row of eland, executed with achingly evocative line and colour, and ceremonial figures, therianthropes and hallucinatory entoptic symbols, enliven the arcing walls of this hidden overhang over which a waterfall plunges.
Highest Concentration of Rock Art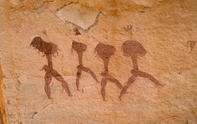 ©Roger de la Harpe
Only five kilometres long, Didima Gorge near Cathedral Peak has the highest known concentration of rock art on Earth. Hundreds of shelters, large and small, contain thousands and thousands of painted images. Anthropologist Harold Pagar documented every one in his epic publication, Ndedema.
An Easy Option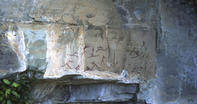 ©Roger de la Harpe
An easy option is Battle Cave at Injisuthi in the Berg. The guided walk from the camp upriver to the small overhang takes about an hour. The rock art scene appears to show a battle, but modern interpretation insists the flights of arrows show lines of power (the subject of many San paintings).By
David Bristow