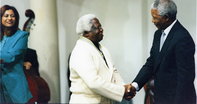 © David Meyer-Gollan
Meeting Nelson Mandela
Dr Peter Magubane remembers his innocuous first meeting with the man who would later be counted as a lifelong friend. 'It was during the days when Mandela was practising law. I needed an attorney to represent my father who had been involved in a car accident, so I went to Mandela and Tambo's offices,' he recalls.
'At that time I didn't know how involved they were in the politics of the country. Mandela told me that he was too busy and didn't want to take on too many cases, as he was finishing off work they already had. I had to find another lawyer.' Over time, Peter's children become friends with the Mandela children because they go to the same school in Swaziland.
'I was able to provide transport for them to school, as I knew that their mother [Winnie Madikizela-Mandela] couldn't do that because she was also banned.
Fortunately I had people I could rely on who would not spill the beans,' Peter shares. Slowly, almost indirectly, a kinship is forged between two politicians — one who speaks with words and actions, the other who speaks with his camera.
Visits on Robben Island
Dr Peter Magubane goes to visit Nelson Mandela in prison on Robben Island, solidifying the relationship between the then future President and the charismatic cameraman. 'I used a Xhosa pseudonym — Ralanqobuso Mtirara. I don't know how they let me in, but they did.
We were both taken aback to see how time had affected our physical appearances but we were both strong warriors at heart,' says Peter. 'Mandela congratulated me on the photographic work I had been doing in exposing the country without any fear.
' The meeting is brief and conversation difficult as they are watched by two prison officers standing nearby. Still, Peter knows that a vital connection has been made between the two men.
Opportunity of a Lifetime
On 11 February 1990, Dr Peter Magubane faces bitter disappointment. 'The most historic day in the country's history, when Mandela was released from jail, posed my greatest photographic challenge.
A large crowd had gathered outside the Victor Verster prison in Paarl. People had even climbed on top of buses and trucks. Photographers were on the ground and I joined them in trying to find a position to capture those precious moments.
When Mandela finally walked out, the massive crowd surged forward with such force that we were literally trampled in the frenzy. In my entire career, that was the only crucial photograph that I was unable to capture. I was extremely frustrated and disappointed, but what could I do?
The only option was to move on and rest in the knowledge that I was able to shoot other priceless moments.' The opportunity of a lifetime comes when Peter has another meeting with Mandela. Although he had missed the crucial 'first steps of freedom', Peter is honoured to be selected as Mandela's official photographer to chronicle the country's four-year transition to democracy.
The Journey Begins
And so the historical journey begins. Peter is privy to the daily miracle that is unfolding in the lives of South Africans during his four-year tenure as the official photographer. He makes the most of the prime positions available to him at the countless photographic opportunities along the road to a new political dispensation.
Magubane describes how his relationship with Mandela strengthened as they journeyed through the 'passage of peace' together. 'We already trusted each other and shared a mutual respect.
As a photographer, as someone who is documenting history, you are not going to be able to tell the truth if you are not able to forgive. During these special years, I learned that one needs to have patience; you need to learn to acknowledge that mistakes are made.'
Favourite Photo
You will find pictures of Mandela being serious and then he is holding a baby; at other times he is jiving and dancing. This is the man who most white South Africans thought might be different. Instead of confirming their worst fears of pushing them out of the country, he offered hands of peace, saying: "Come, let's work together, let's build this country together." There is a sparkle in Peter's eye as he remembers the occasion that led to his favourite photograph in his book Man of the People:
A Photographic Tribute to Nelson Mandela. 'It is definitely the one of Mandela dancing at his 72nd birthday celebration taken at Kippies in Newtown, Johannesburg. You can see the joy of freedom shining in his eyes'. When Peter donated over a hundred photographs to Nelson Mandela he said 'I wanted to thank Madiba for trusting me, and allowing me the opportunity to document that part of his life.
' In the words of Nelson Mandela, Peter Magubane's photo stories on apartheid, 'helped pave the way to transformation in South Africa'. Along the way, Peter has endured great personal sacrifices.