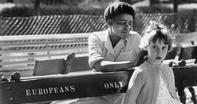 © Dr Peter Magubane
'Without Education, You Can Do Nothing!'
Dr Peter Magubane arrives in Soweto through zigzagging back roads. Peter is scouting the scrap heaps and coal yards for underage child workers. His presence owns the space it occupies. The same passion that led him to expose the atrocities of the apartheid years continues to drive him to portray the social struggles of today.
Dr Peter Magubane drives into the Sowetan scrap yard. It's a metal graveyard. Giant rusting teeth bite into the air. Magubane is looking for the young boys who work here.
They abandon school to earn as little as five rand a day collecting and selling scrap metal. 'Many of them are playing truant, and don't understand the value of education,' he tries to explain the complicated issue. Magubane often goes beyond the camera to help the people he photographs.
Over the years he has helped to reunite many runaways with their parents. He explains he will not interfere until, 'They come to me "Madala! Madala!" they call me, "I want to go home." Only five of the thirty-five boys and girls he has helped have returned to the streets.
Exploited and Poor
He reaches his next stop. It's off the tar road and into the heart of the Jabulani coal yard. Miniature mountains of depressing nuggets block out the surrounding world. Squat make-do homes sit sadly on the grit. A young mother hangs bright clothing on a line, while a baby boy plays in the sooty muck.
Chicken cages are piled up everywhere and a few escapees run in clucking circles. A bitter smell saturates the air. Starting as early as sunrise, youths shovel heavy coal for donkey-cart deliveries across Soweto. In winter the township's skylines are smudged by coal fires. 'It's warmer here and they have shelter.' Magubane looks out the window.
Exploited and devastatingly poor, the biggest issue facing these children today he feels is, 'Without a doubt, education. Without education, you can do nothing!' A tough-looking man recognises the photographer. 'He's one of my boys,' Magubane cheers. 'He has been working here for years.' It's poignant that the boy he photographed in the 1970s is his lead to the coal youths of today.
He's made his contact, so he leaves this Armageddon moonscape for the livelier streets of Zola, where teenagers decorate the curbs and parks and he overtakes a withering woman driving her wheelchair in the left-hand lane.