Ukukhetha kwe-UNESCO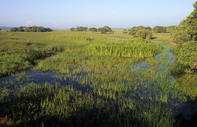 ©Roger de la Harpe
Indawo i-Greater St. Lucia Wetland Park, kwanjesi esele ibizwa bona yi-iSimangaliso Wetland Park yamenzezelwa njengendawo yelifa yephasi ngonyaka ka-1999. Ikomidi ye-Unesco yathatha isiqunto sokobana ifake iindawo ezimbili ezivikelwe lilwandle i-(St. Lucia and Maputaland marine reserves) kanye nezinye iindawo eziyi-11 zelwandle i-(Maphelane Nature Reserve, St. Lucia Park, Eastern Shores State Forest, Cape Vidal State Forest, Nyalazi State Forest, False Bay Park, Sodwana State Forest, Sodwana Bay National Park, Lake Sibaya Freshwater Reserve, the Coastal Forest Reserve kanye ne-Kosi Bay Nature Reserve).
Iphaga Eqakatheke Ephasini Loke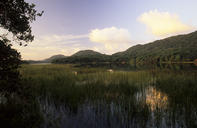 ©Roger de la Harpe
ISimangaliso Wetland Park, imenyezelwe njengendawo yelifa yephasi kungasi kongebanga lokobana inelwandle kwaphela kodwana ngebanga lokobana ine-biodiversity, nobuhle bemvelo begodu nangebanga lokobana inemilambo namadamu ahlukileko.
Iphaga le iinlwane zebhawoloji ezihlobanako ubunengi bazo ezihlala kiyo (iinlwane zelwandle, ihlathi eliseduze kwehlabathi yelwandle, amadamu nemilambo kanye namanzi welwandle).
Iyafaneleka Kobana Ingaziwa Ephasini Loke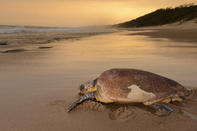 ©Roger de la Harpe
Akusikukwakheka kwayo kwebhoduluko okuyenza bona yaziwe iphasi loke. Kunemihlobo ye-flora engaba yi-(2,185) iinlwane zoboya imihlobo eyi (129), iinlwane zemanzini imihlobo engaba yi-(128) iinyoni imihlobo engaba yi-(526) kanye nemfesi imihlobo engaba yi-(1,039) imbalobalwezi zisitjela bona kungebanga lani ukutlhogonhyelwa kwenlwanezi kuqakathekile ephageni le.
Nawukhamba lapha ukhambakhamba ehlabathini yelwandle, ubone imisebe yelanga ivela ngale kwamanzi welwandle. Ngaphasi kwehlabathi kunesalela zamafosili, ngaphandle ehlabathini yelwandle kunemihlobo emithathu yenrhuru, ubone iinkala nazo zikhambakhamba ehlabathini, nawuphosa ilihlo ubone amafu alengako kuhlole ithingo lenkosazana.
Iinyoni Lala kanye ne Wild-date Palms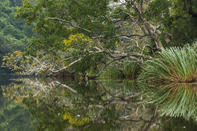 ©Roger de la Harpe
Lada nawukhamba ehlathini elinzima ubona iinkomo zelwandle (Zizyphus mucronata) Natal mahogany (Trichilia dregeana) kanye ne-pigeonwood (Trema orientalis) zibotjhwe yirobhu yemfene kanye nendevu zeqhegu. Nawufika ku-canopy ubona i-Coastal strelitzias (Strelitzia Nicolai) ihlolise ihloko yayo. Nawukude nehlathi uzwa itjhada le-fene isamango nanyana i-Tonga red squirrel. Kodwana entwaleni zekuseni kubalwa hlangana i-green twinspots, purple-crested turacos kanye ne-African emerald cuckoos.
Utjani obunamatjhatjhaza we-lala (Hyphaene coriacea) kanye ne wild-date palms (Phoenix reclinata). Nawuphuma ngekoloyi ubona iinkudu ezizibuzako zisondela ekoloyinakho zembathe ingwani ye-Medusa ebonakala inga ibudisi eenhlokweni zayo. Udlula ama-reedbuck amanengi ukudlula okhe wawabona e-Africa.
Nakutjhinga ilanga udlula e-wetland fringes, uzwe umdumo we-enjini, ubone nenyoni zomhlobo wamaflamingo ezidlula eziyi-10 000 ziphapha phezulu esibhakabhakeni ngama apinki.
Translated by Busisiwe Skhosana