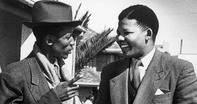 © Dr Peter Magubane
Nelson Mandela with Peter Nthite, a youth league leader.
Nelson Mandela and various other journalists, activists and political affiliates stood accused of treason in the 1950's apartheid years. The main treason trial, that lasted for almost 11 years, was the main attack on the Freedom Charter, which was drafted by key activists. In 1961, all those accused were acquitted and discharged.
Pictured with Madiba is Peter Nthite, who was the African National Congress Youth Leader and also accused of treason. In 1952 he became the chairman of the Sophiatown Youth League and later secretary for the Transvaal League. He was then elected the leader of the ANC Youth League.
Mandela and other activists had an array of supporters that came to the court each time defendants were summoned. Pictured is a young Madiba, making his way through a crowd of singing supporters at his trial in 1958.
"Money won't create success. The freedom to make it will." ~ Nelson Mandela