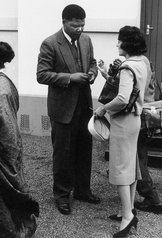 ©Dr Peter Magubane
Nelson Mandela conversing with fellow activist Ruth First, the wife of Joe Slovo, who was the Secretary-General of the Communist Party of South Africa.
Ruth First was a prominent anti-apartheid activist and author and one of the founding members of the South African Congress of Democrats (COD). She was also the editor of the Guardian, Fighting Talk and the New Age, writing about the injustices of Apartheid. During the 1960's, First was in solitary confinement for 117 days and went into exile to England. She was assassinated by a letter bomb in Maputo, Mozambique. First was married to fellow activist Joe Slovo and they had two children.
Nelson Mandela was friends with Ruth and they frequently spoke about politics and the liberation movement. They were co-accused in 1955 of treason and were acquitted in 1961. This image captures him conversing with First at their treason trial.
"We too will die but that which we collectively contribute to our national cultural identity will live forever beyond us." ~ Nelson Mandela