Honoured Heritage Sites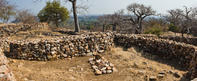 ©Roger de la Harpe
The "Queen's" grave at Thulamela Cultural Site, Kruger National Park.
There are literally hundreds of natural and cultural heritage sites within the Kruger National Park. However, many of these sites are unmarked or far from established tourist routes. Those that have been identified were generally done so by the old National Monuments Council, reflecting their one-sided view of history. The choice of sites, and the wording on some of the commemorative plaques, therefore belongs very much to the "Old South Africa".
SANParks is now working to update their heritage register. They want to make the Kruger National Park's history more inclusive and are investigating ways to make more sites accessible to the public.