Historical Routes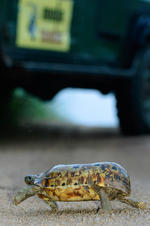 ©Shem Compion
Leopard Tortoise crossing the road in the Kruger Park.
'Mafourteen' and Mangalane Footpath - Leading from Letaba to the Mozambique border, this path was used by labour trains from the 1920s in to the early 1970s. It was a migrant labour route in constant use between 1920 and 1960. Located near Lower Sabie.
Old Transport Road - The Route of the main wagon road from Lydenburg to Delagoa Bay. Several historical markers can be found along the route, most pertaining to the days of the transport riders. Starts near Pretoriuskop and ends around Crocodile Bridge in Kruger Park.
Nellmapius Ford - An old drift across the Crocodile River, used by wagons on the Transport Road to Delagoa Bay. Built by a contractor, Alois Nellmapius, the drift was in use from 1872-1892, until the opening of the Delagoa Bay railway line, when it fell into disuse. Located between Malelane and Crocodile Bridge.
Potgieter's Route - A commemorative marker, located within Punda Maria rest camp, celebrating the Bronkhorst-Potgieter Voortrekker journey - basically, a reconnaissance party passed this way in 1836, in search of the missing Van Rensburg party.
Crossing the Sabie River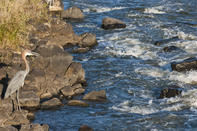 ©Roger de la Harpe
Goliath heron by the Sabi River, Kruger National Park.
Before a causeway was built, vehicles were ferried across the Sabie on a raft, based in Skukuza rest camp. The old Reitz pontoon across the Olifants River, is located in Balule rest camp in Kruger Park.
Best viewed from the Skukuza promenade, is the Old railway bridge over the Sabie River, constructed as part of the Selati Railway. A handsome looking steam engine, left over from the days of the Selati line. It used to house a restaurant but now stands empty in its lonely siding at Skukuza.
By
David Fleminger