Commemorative Plaques
Black Rangers Memorial - Located at Kruger Gate, this long overdue memorial is an attempt to draw attention away from Paul Kruger's brooding presence. 'Bvekenya' Barnard Plaque - This commemoration is in honour of Stephanus Cecil Rutgert 'Bvekenya' Barnard – legendary elephant hunter and poacher who later turned conservationist.
©Roger de la Harpe
View from Mtambeni Hide at Engelhard Dam, Kruger National Park.
According to his son, Barnard had the change of heart after coming face to face with Ndlulamithi, the name he called the mighty tusker, that he had been stalking for years but didn't have the heart to kill. It is located in Crooks' Corner.
Engelhard Plaque is a commemoration to American millionaire Charles Engelhard, who sponsored the construction of the Engelhard Dam, Letaba Camp. Grobler Plaque is a memorial plaque to Piet Grobler, a relative of Paul Kruger, who introduced the National Parks Act to parliament in 1926. Overlooking Piet Grobler Dam, located near Timbavati picnic site.
Jock of the Bushveld Plaques - Starting at Numbi Gate, a series of plaques, branded with an image of the famous dog, identify various locations along the Old Transport Road, immortalised by Percy FitzPatrick's popular novel 'Jock of the Bushveld'. The waymarkers were erected at the suggestion of Cecily Niven, FitzPatrick's daughter. Joe Ludorf Plaque - This is a memorial plaque to the first chairman of the National Parks Board, set into the distinctive Napi boulder. It is located between Pretoriuskop and Skukuza.
Kruger Tablets - A rather self-serving memorial plaque, erected by the National Parks Board in 1933 to "commemorate the institution of the national parks of the union Sabi Game Reserve, declared by President Paul Kruger, in 1898. The National Parks Act was introduced by Mr. PGW Grobler, Minister of Lands, in 1926." It is located between Skukuza and Tshokwane picnic site.
Orpen Rocks - A commemorative plaque set into boulders "to honour… and in gratitude to Mrs Eileen Orpen for her generous gift of seven farms for inclusion in the Kruger National Park, total area 28 633 morgen. This bears testament to her love of nature and the natural world. It was erected 1944." It is located between Skukuza and Tshokwane picnic site.
Memorials and Museums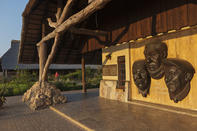 ©Roger de la Harpe
The Founding Fathers of Kruger National Park, Skukuza Camp.
The James Stevenson-Hamilton Memorial Library and Museum is an extensive archive of books and papers relating to every aspect of the Kruger National Park, located at Skukuza. Also contains an interesting museum about the park, with memorabilia and exhibits. After his death, the ashes of renowned warden, James Stevenson-Hamilton, were scattered from atop Shirimantanga koppie. The views from the boulder are wonderful. It is located near Skukuza.
Letaba Elephant Hall - Excellent museum dedicated to all things pachydermal. Contains the remains of the 'Magnificent Seven'. Located inside Letaba rest camp. Founders Memorial - This memorial is a large frieze depicting the three men who are traditionally recognized as the founders of the Kruger National Park.
The sculpture has pride of place outside the Skukuza reception building. Trichardt's Memorial is a marker for the 'epic' trek of Louis Trichardt in March 1838. It is located between Tshokwane picnic site and Satara.