Hundreds of people have met their maker in the unforgiving bush of the Kruger Park. In fact, the Kruger National Park is liberally sprinkled with the graves of men and women, both famous and unknown.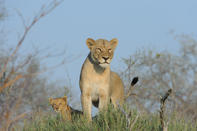 ©Shem Compion
Lion country, Kruger National Park, South Africa.
Researchers have even found the grave of a person of either Indian or Arab ethnicity, buried at Pembe. This is unusual because the Asian seafarers did not generally venture inland. But, whatever the provenance, most of the old grave sites are long forgotten, lost in the wild.
Pretorius' Grave - Pretoriuskop is named in honour of Willem Pretorius, a member of Carel Trichardt's 1848 expedition to Delagoa Bay. He was interred here by Albasini. His burial place is just visible in the long grass, a short distance from the road. However, this is lion country and it is not recommended that you get out of your car to view Pretorius' final resting place, or it might become yours too. Stolz' Grave - In 1886, Gert Frederik Coenraad Stolz went hunting near the Bukweneni River.
He contracted malaria and died in the wilderness. The Stolz family were famous wagon makers from the White River area. His burial place is located between Pretoriuskop and Berg-en-Dal. Soltke's Grave - A member of a transport crew in the 1880s, Soltke accidentally shot himself in the leg and died of the wound, aged 23. His burial place is located near Pretoriuskop.
Anna Ledeboer's Grave - The burial place of Ranger Leonard Ledeboer's wife, Anna Ledeboer, is located near Letaba. Known for her bad temper (perhaps unfairly), she died suddenly of a heart attack or malaria and was interred at Hatani ranger post in 1921.
Prospectors Graves - A forlorn graveyard for prospectors who were active in the area during the 1870s. It is located near Skukuza. Pet Cemetery - There is a burial place for all the beloved pets of the Kruger Park staff, not like the one in Stephen King's book. It is located in Skukuza.
By
David Fleminger