Impressive Trees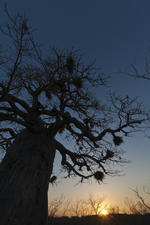 ©Roger de la Harpe
Baobab in Mopani Camp, Kruger National Park.
Located between Tshokwane picnic site and Satara. A huge baobab tree with an enormous circumference, now sadly scarred by the initials of idiots with knives. Said to be the most southerly baobab in Kruger National Park. Located near Crooks' Corner, in the far north is a big tree named after a big game hunter, 'Buck' Buchanan's Baobab.
Located near Letaba, Das Neves Cross, a Portuguese Cross carved into an old Leadwood tree. Of uncertain provenance, it is thought to have been made by Diocleciano Fernandes das Neves who traded and hunted in the interior during the 1850s and 60s. Das Neves' did not travel light. He was accompanied by over 200 porters and 20 heavily armed elephant hunters.
The cross may also be associated with one of Joao Albasini's Portuguese mail runners. The Sausage Tree (Kigelia africana) gets its name from its heavy, frankfurter-like fruit, which is used by traditional healers as a purgative. A good example can be found in the Letaba parking lot, where motorists are advised to watch out for falling sausages.
Located in the Pafuri, look for the Fever Tree Forest. A flat plain along the Shingwedzi River covered with hundreds of vivid yellow Fever Trees.
Located near Olifants River is Von Wielligh's Baobab, GR Von Wielligh surveyed the eastern boundary of the Kruger National Park, along the Mozambique border, and carved his initials into the bark of this baobab at 'Camp 19' in 1891.
Gorges, Rocks and Hills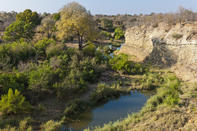 ©Roger de la Harpe
View at Red Rocks and Shingwedzi River, Kruger National Park.
Lanner Gorge - a natural heritage site, one of the most dramatic viewpoints in the Kruger National Park. It is only accessible as part of the overnight Nyalaland Hiking Trail, or through one of the concessionaires in the Makuleke Contract Park. Located near Boulders.
Bowker's Kop - A hill named after Miles Robert Bowker, a keen hunter who camped here. It is recorded that they 'returned with many trophies, including malaria'. Red Rocks 'Ribye ra gubyane' – potholes formed in soft Karoo sandstone. In the dry season, fish get trapped in the isolated pools. It is located near Shingwedzi.
By
David Fleminger