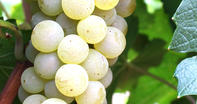 © Louise Brodie
Description
Chardonnay is the most commonly produced white grape cultivar in the world today. It is a cross between the Pinot family and a nearly extinct variety called Gouais Blanc.
Origins
France.
Other Names
Melon blanc, Pinot blanc Chardonnay, Pinot Chardonnay or Weisser Clevner.
Production in South Africa
While the cultivar had been in the country for a long time, production only really took off after improved plant material became available in the 1970s. Up until then, cuttings had to be made from vines that were heavily infested with virus.
Frustrated with the slow rate at which government was importing and releasing new planting material, a group of ten farmers decided to take matters into their own hands. Between 1973 and the early 1980s, the group smuggled plant material into South Africa, in their underpants, suitcases, laundry and even in unchartered planes.
They collected French plant material at the wine school, Geissenheim, in Germany, where Danie De Wet, their ringleader, was a former student. De Wet, who farms at Dewetshof in Robertson, was the first to smuggle new Chardonnay plant material into the country in 1973.
Production Regions
Chardonnay is produced in all the wine making regions of South Africa, with Robertson, Paarl, Stellenbosch, the Breedekloof and Swartland boosting the largest areas under production.
Growth
The cultivar is a medium grower, with a yield potential of 5t/ha to 9t/ha.
Ripening
Early, during the first half of February.
Berries
Berries are small, round with a pale green to yellow colour. The skin is thin, tough and transparent, while the fresh is soft and juicy.
Leaves
Leaves are medium sized, slightly lobed, thick, with convex edges.
Pests and Diseases
Moderately sensitive to downy mildew and botrytis. The vines thrive under cooler winter temperatures and mild summer temperatures. Early ripening helps to reduce the impact of hot climatic conditions on production.
Use
It is used as single varietal wooded or unwooded wine or to produce some of South Africa's top sparking wines. It is often blended with Sauvignon blanc.
Taste
The character of wines produced by this cultivar depends on climatic conditions and the soil. While the cultivar adapts well to most soil types, chalk, clay and limestone are said to be the best. Flavours range from fruity to tropical, herbal, vanilla, butter and cinnamon. The wines have a golden colour and a velvety feel in the mouth.By
Glenneis Kriel