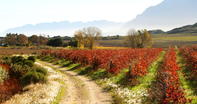 © Louise Brodie
A wine farm near Slanghoek in the Rawsonville district near Worcester in the Western Cape.
The first grapevine was planted in 1659, just after the Dutch landed in the Cape to establish a fresh produce station on the southern tip of Africa. Since then, South Africa's grape industry has grown to more than 10 000 producers, more than half of whom produce wine grapes.
South Africa has become a major player in the world's wine industry and produces a range of wines, from light table wines and full-bodied red wines to Methode Champenoise and Port-wine style wines.
SouthAfrica.co.za presents a range of easy-to-read articles on viticulture in South Africa, inspired by South African research and training material. This is translated in all 11 South African languages, enabling more new farmers and workers to understand and participate in the art of wine grape growing in South Africa.