Gateway to the Kalahari
Upington was established on the banks of the Orange River in 1870 and has expanded rapidly to become the educational, commercial and agricultural centre of the Gordonia District in the Northern Cape.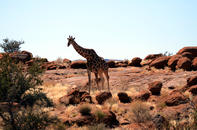 ©Karl Svendsen
Giraffe (Giraffa camelopardalis), Augrabies, Northern Cape.
The economy relies heavily on tourism and the flowers of Namaqualand, the Richtersveld are very important.
Situated in the heart of the Northern Cape, this small town is not the most glamorous urban destination, but still very much worth a visit. It is the gateway to the Kalahari and is en-route to the Kgalagadi Transfrontier Park, which is around 250 km away and the Augrabies National Park, approx. 125 km, with its spectacular waterfall and adrenaline pumping river rafting. The Augrabies National Park is home to various wildlife, including Springbok, Klipspringers, Eland, Giraffe and Black Rhino, as well as prolific birdlife.
The Gariep River also supplies irrigation waters, sustaining the enormous green vineyards on the edge of the desert. When visiting Upington, don't forget your sunblock as this town is one of the hottest towns in South Africa, with an average summer temperature of over 40 degrees Celsius.
Access to Upington is via a small airport, with scheduled flights from Cape Town and Johannesburg. This town is quite remote, situated about 800 kilometres from Cape Town via the N7 and N14, and 400 kilometres from Kimberley via the N8 and N10.