Museums, Statues and Nature
On your visit to Upington check out the prominent local landmark, the Palm Tree Avenue, which leads to Die Eiland resort. Planted in 1934-35, the 1 041-m-long avenue has over 220 palms and is the longest such avenue in the southern hemisphere.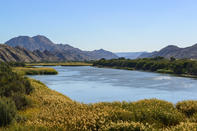 ©Roger de la Harpe
View of the Gariep River.
Upington also has two unique statues, one symbolising the contribution of the donkey to the development of the area, and the other serving as a reminder of the role of the camel during the early days of policing.
The Kalahari Oranje Museum is housed in the historic church built between 1873 and 1875 by the Reverend Schröder. Its theme is the history of Upington and the Lower Gariep River.
The Spitskop Nature Reserve, 13 km north of the town, has a network of game-viewing roads and picnic spots. Game to be seen include eland, gemsbok, springbok and red hartebeest.
Water, Wine and Relaxation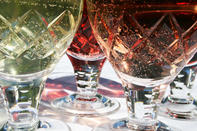 ©Louise Brodie
A road trip along the Orange River Wine Route is well worthwhile. The rich floodplains of the Gariep River, also referred to as the Orange River, create a cool microclimate for quality wine and export quality table grape and raisin production. Grape varietals include Sultana, Columnbard, Chenin and Hanepoot. Oranjerivier Wine Cellars is the largest co-operative in South Africa and exports not least to Europe and America.
White water rafting and fly fishing are popular along the Gariep River and, for many, is reason enough to visit Upington. Some enjoy the tranquillity of a river cruise, while others prefer the adrenalin rush of gambling at a local casino or a hot air balloon ride. The Klipspringer Hiking Trail in the vicinity is enjoyed by many who sometimes travel to this special corner of South Africa purely to escape to nature and head for the mountains.