Mission Beginnings
The area between Upington and Augrabies Falls, an island-strewn section of the Gariep River, was a stronghold for river pirates from way back when. Vagabonds, desperados, bandits, rustlers and renegades would hide out close to modern day Upington. The ford of Olyfenhoudtsdrif (Olivewood ford) was one of the places that these river people would congregate.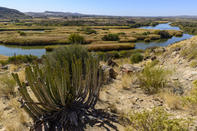 ©Roger de la Harpe
Gariep River islands.
In 1870, chieftain Klaas Lucas, who lived at the ford, appealed for the establishment of a mission station to try to settle the area. Reverend Christiaan Schröder arrived from Cape Town and met with Klaas Pofadder, who claimed to own the area, and secured permission to start a mission at the ford.
In 1873 the foundations were laid for the Olyfenhoudtsdrif Mission, as it was then called. By 1875 the mission was complete and in 1883 a parsonage was also built. These buildings still stand today and house the Kalahari-Oranje Museum, which preserves the natural and cultural history of the area. In the grounds of the museum is a monument to the donkeys that worked the irrigation system, which was used by the farmers to raise water from the river.
In 1884, the river pirates were finally driven away from the ford. A town was established and called Upington, after Sir Thomas Upington, who served as Attorney-General and Prime Minister of the Cape from 1884 to 1886. Upington then became the administrative centre for Gordonia, the area north of the Gariep, which was named in honour of Sir Gordon Sprigg, Prime Minister of the Cape between 1878 and 1892.
Flourishing Agriculture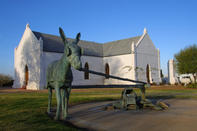 ©Roger de la Harpe
In Upington there's a memorial to the donkey, so essential in the era before petrol-driven water pumps and vehicles.
The town of Upington grew rapidly and is the centre of the region characterised by a variety of activities and natural wealth. Pioneer settlers, such as the Rev. Schroder and Johan Lutz dug an irrigation canal in 1890. A pontoon ferry service began and the town of Upington became a busy commercial centre ideally situated right on the river where these days pastimes such as fishing, boating can be made.
A railway bridge, the second longest in Southern Africa, was built over the river to carry the railway from De Aar to Namibia. With such a rich water supply and transport system the following are produced here of lucerne, sultanas, raisins, peaches, apricots, cotton, wheat, maize, peas, wine, cattle, wool, karakul pelts, mutton and dates are all grown here. Some of the original irrigation canals from 1880 remain in use to this day.