It is said that no two visits to the Kalahari are the same. This ancient and beautiful land is not only amazingly rich in diversity; it also reflects an endless variety of moods, making each new encounter refreshingly different from the previous.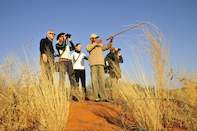 Morning walks in the Dunes.
The Kalahari Red Dune Route showcases the Kalahari at its fascinating best, through a wide range of activities including dune boarding, camel riding and 4x4 trailing for the adventurous, and game drives, guided walks, birding expeditions and other eco-inclined activities for nature-lovers.
For visitors attuned to culture and history, the Kalahari Red Dune Route offers the opportunity to experience regional customs and folklore, sample traditional cuisine, and meet the warm and welcoming people of the Kalahari (a glossary of common local words and terms can be found below to assist you during your visit).
Accommodation options are as diverse as the landscape, and vary from camping to homely bed and breakfasts to luxury lodges. All in all, the Kalahari Red Dune Route offers something for everyone.
The area covered by the route extends north of Upington in the Northern Cape Province of South Africa into the toe-shaped protrusion of South Africa to the Namibian border.
The route incorporates the first formally-declared Transfrontier Conservation Area in Africa — the Kgalagadi Transfrontier Park. This park straddles the South Africa-Botswana border and is one of the largest conservation areas in the world.