The Kgalagadi Transfrontier Park is the first official Transfrontier Conservation Area in Africa. It covers an area of 3.7-million hectares, and encompasses the former Kalahari Gemsbok National Park in South Africa, the Gemsbok National Park and Mabuasehube Game Reserve in Botswana into one unit. To survive the long dry spells, Kalahari animals need large areas to find sufficient food.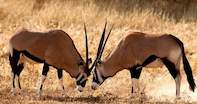 Gemsbok in the Kalahari.
It is essential, therefore, to maintain as large an unimpeded conservation area as possible. The park encompasses two of the three Kalahari eco-types. The southwestern portion of the park is duneveld, with its unique semi-arid vegetation; the northeastern part comprises of Kalahari plains thornveld.
Kalahari Trails, a 3 500ha private reserve situated 35km south of Kgalagadi Transfrontier Park, is a nature lover's paradise. Given over exclusively to game, it offers a wide range of habitats to explore.
A variety of guided activities are also offered, such as morning walks, dune game-drives interspersed with tracking walks, spot-lit night drives and night walks. Prof Anne Rasa, owner of the reserve and a desert ecologist, shares her extensive knowledge of the dune plants and animals.
Some 40 mammal and 170 bird species have been recorded on the reserve. A small botanical garden on the property allows visitors to identify species they have seen in the wild.