Natural Splendour
With the first rays of the sun streaming over the eastern horizon on the Kalahari Red Dune Route, you might encounter martial eagles puffed out against the morning chill, wildebeest snorting plumes of vapour into the freezing air, and the deep bass rumble of a black maned lion proclaiming its territory from a high dune.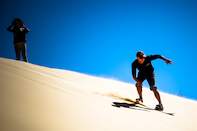 ©Jacques Marais
Sandboarding in the Northern Cape, South Africa.
Adventure & Adrenaline
Get your dose of a natural high at the Kalahari Trails Private Nature Reserve, one of the best-kept secrets in the Kalahari. Situated 35 km south of the Kgalagadi, the reserve is run by Professor Anne Rassa, who is a real legend in these parts. The remote bush camp enables you to escape into the heart of the dunes. Hike with her and her meerkats by day to "read the dune newspaper" or track scorpions and wind spiders at night.
Culture & Leisure
The Kalahari Red Dune Route brims with cultural activities offered by the ‡Khomani San people. You can learn to shoot a bow and arrow as well as learn how make fire without a lighter. A great family stop where the kids (and any young-at-heart adults, of course) can enjoy an afternoon of play and dune boarding on the ochre dunes.
Eat & Sleep
Accommodation options are as diverse as the landscape; they vary from camping, to homely bed and breakfasts, to luxury lodges. Try the local delicacies of sheep's tails and Nabbas (Kalahari truffles), or fresh roosterkoek and moerkoffie