Ezra Nyaniso Ngcukana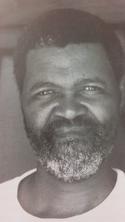 Ezra Nyaniso Ngcukana was an exceptional, versatile jazz musician and the younger brother of fellow jazz legend Duke Ngcukana. His father was the prominent baritone and tenor saxophonist Christopher Columbus "Mra" Ngcukana.
Born in 1955, Ezra was surrounded by music in his home from a young age: "My first saxophone was not intended for me because nobody expected me to play saxophone, because I am a humble person.
To play the saxophone you got to be aggressive." At 15, Ezra gave his first professional jazz performance. In 1972 he enrolled at the University of Fort Hare in Eastern Cape, where he joined the Village Art Quintet that his brother, Duke, had established at the university. He teamed up with Duke, Timmy Kwebulana, Buggs Gongco, Danayi Dlova and Victor Ntoni to form the Uptown Sextet. Later, he became involved in Lefifi Tladi's group called "Dashiki" that fused political struggle poetry and music.
In 1973, Ezra was expelled from Fort Hare due to political disturbances. He went on to register at the University of South Africa (UNISA) and obtained a Bachelor of Science in Mathematics and Physics and Bachelor of Commerce in Quantitative Management. Amid his fine academic achievements, the carefree saxophonist was heavily involved in music.
He toured extensively nationwide as well as internationally and played in a number of bands: Fever, Four Sounds, Gery Spencer's Jazz Cyclone and Sylvia Mdunyelwa's Band, with whom he visited and performed with, in the Netherlands (North Sea Jazz Festival), Germany (Berlin Festival) and Japan. In 1989, he recorded his debut album 'You Think You Know Me'.
He also recorded the album 'Brothers' with fellow tenor saxophonist Duke Makasi, pianist Tete Mbambisa, bassist Victor Ntoni and drummer Lulu Junior Gontsana. He collaborated extensively with his four brothers - trumpeter Duke, vocalist Fitzroy, saxophonist Claude Gawe and keyboardist Cyril in music written by some of the country's premier songwriters.
One of Ezra's legacies is the Little Giants Band he established with pianist George Werner in 2000. Ezra was a brilliant student and a passionate mentor, always full of wisecracks and wit. His unexpected passing in 2010 left a hole in the hearts of his brothers, extended family, fans and fellow musicians.
Duke Mkhondo Ngcukana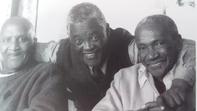 (From left): Robert Twana, Duke Ngcukana and Mbrooks Mlomo.
Duke Mkhondo Ngcukana was a brilliant trumpeter and teacher from Langa in the Western Cape. He was well-known in the jazz scene in the 1960's and performed with various jazz musicians. He was actively involved in the Langa community and had a successful career in both music and education.
Duke was born in 1948 and was the eldest son of accomplished musician Christopher Columbus "Mra" Ngcukana. Fittingly named after a prominent American jazz composer, Duke Ellington, Ngcukana fell in love with music at the age of five. He was first exposed to music when his father's big band practised at their house over weekends.
Duke's early musical experiences were with the Salvation Army where he played a wide range of brass instruments. By age 16, he played the flugelhorn semi-professionally under his father and another jazz legend, Cups 'n Saucer Nkanuka. He later mastered the trumpet and comfortably played Be Bop (an American style of jazz) and South African jazz.
Duke formed the Ngcukana Brothers Band with his four brothers. They featured in prominent jazz shows around the country, including the Cape Town International Jazz Festival. He also collaborated with a number of the country's premier jazz songwriters. Duke had careers in both music and education.
In the 1970's he started his teaching career and was a dedicated mathematics and physical science teacher. Over the years, he held various positions and in 1996 he was appointed deputy principal at Intlanganiso Secondary School - a position he held until he died in 2011.
Throughout the 1980's in between teaching, Ngcukana performed with artists like Sylvia Mdunyelwa, Abdullah Ibrahim and his younger brother Ezra, as well as bands such as Oswietie, Pacific Express, Soul Jazz Men and Workforce. In 1989 he became the principal and Chief Executive Officer of Music Action for People's Power (MAPP), a music academy in Athlone.
Ngcukana founded the award-winning Langa Adult Choir and piloted the Chorimba concept with musician Banzi Tema, which was a mixture of choristers, a marimba band and a jazz ensemble. They released a CD in 1993. Duke took the death of younger brother Ezra in 2010 very hard and fell ill shortly thereafter, and passed away in 2011. He has been memorialised as one of the great Langa jazz legends.