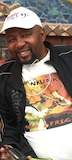 Kwezi Kobus is a film and TV actor, producer, writer, director, social/arts development activist and community leader. He has 30 years experience in film, television, corporate communications and commercials industry. Growing up in Cape Town, Kwezi was was an avid sportsman in school, sang in the choir and was a student leader.
He obtained a B.A in Political Studies, Public Administration and English at the University of Western Cape after disrupted attempts to attend Fort Hare University, University of South Africa (Unisa) and Wits. During the apartheid years, Kwezi was sent into detention without trial.
He spent three months at Victor Verster Prison in 1980. Kwezi then travelled the world and worked with local jazz legends such as Winston Mankunku Ngozi, Ezra Ngcukana and Feya Faku. He worked as the manager of international singer Sylvia Mdunyelwa with whom he produced in 2007 'Sistas Healing our Souls', a landmark musical production featuring the female legends of South African music.
Kwezi has featured in international films such as 'Mandela and de Klerk', acting alongside Sidney Poitier and Michael Cain. Kwezi has also starred in local productions like 'I Now Pronounce You Black and White', 'Trailer Made', 'Born to Win', 'The Runner' and 'Copposites'.
Kwezi has starred in local television productions such as iSikizi I and II, as well as Stokvel, amongst others with the SABC. He is also a voice actor and has done work for brands like Vodacom, Shoprite, Sanlam, Old Mutual, BP, Caltex, eTV and City of Cape Town. Kwezi is a translator and writer, and has contributed historical information on local Cape Town jazz legends for South Africa Online ®