The Remarkable Discovery
In 1933, the remarkable discovery of a grave of unknown origin was made near the summit of a natural rock stronghold in what is now one of the centrepieces of the Mapungubwe National Park. The discovery of intricate jewellery, a rhino statue fashioned from solid gold and beads from around the world led anthropologists back in time to an ancient realm, that of the Kingdom of Mapungubwe.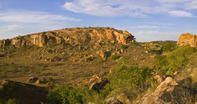 ©Roger de la Harpe
For more than seven centuries, common knowledge of these long-forgotten people did not exist, but their story now headlines within this culturally-focussed transfrontier conservation area. It is a story that started as far back as 1200 AD (stands for Anno Domini, which is Latin for "year of our Lord"), when an Iron Age metropolis within these craggy kopjes was ruled by an African king of immense power. Visitors now flock to the eponymous park in their droves to learn of this long gone nation-state, and they remain the primary reason why this huge Transfrontier park was proclaimed in the nineties.
'The Place of Jackals'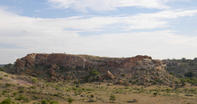 ©Roger de la Harpe
Did you Know: Anthropologists are not 100% sure where the name Mapungubwe came from, but it's origin is thought to be based on 'the place (or hill) of jackals'.By
Jacques Marais