Kruger National Park's First Rangers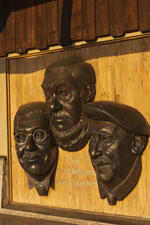 ©Roger de la Harpe
The Founding Fathers of Kruger National Park: (left-right) James Stevenson-Hamilton, Paul Kruger and Harry Wolhuter.
The first intake of rangers, for the newly formed Sabi Reserve, which later became the Kruger National Park, was assembled on an ad-hoc basis during the first few years of the park's existence. They were all English-speaking and most had some hunting experience in the Lowveld.
The first to be employed was the loyal Harry Wolhuter, based at Pretoriuskop. He would remain in the park for the next 40 years (retiring at the same time as James Stevenson-Hamilton).
Others included Thomas Duke (stationed at Lower Sabie), CR de la Porte (Crocodile River), GR Healy (Wanetzi, later named Satara), Leonard Ledeboer (Letaba) and the obstreperous Major Fraser who held court in Shingwedzi.
This was the so-called 'First Guard' and they, along with James Stevenson - Hamilton and their 'native police', can legitimately claim to be the park's founding fathers.
Their original rangers' stations also live on as today's tourist rest camps. But this was not an all-male environment. Although it was preferable for rangers to be unmarried, several had wives and children who had to cope with very trying circumstances.
By
David Fleminger