Kruger's First Extensions
One of the first extensions to the Kruger National Park was the result of a generous donation from a stern-eyed, old battle-axe named Eileen Orpen. She was part of the wealthy Barry family, a trading dynasty based in Swellendam.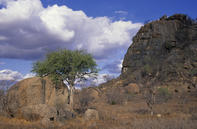 ©Nigel Dennis
Kopje near Orpen, Kruger National Park, South Africa.
Together with her husband, James Havelock Orpen, Eileen became one of the Kruger National Park's most devoted benefactors. The Orpens had a long history in the conservation movement of South Africa. James was involved with the construction of the Armstrong fence around the Addo Elephant Park and the establishment of the Mountain Zebra National Park.
He also surveyed the western boundary of the Kruger Park, planned the Shingwedzi rest camp, and laid out the roads in the Pretoriuskop region, all without recompense. He was a member of the National Parks Board for 14 years, starting in 1939.
The Orpens Conservationists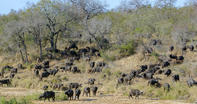 ©Roger de la Harpe
African Buffalo in Mbyamiti River. Kruger National Park, South Africa.
Eager to help, Eileen started buying up private farms that adjoined the Kruger National Park to ensure that no hunting took place on the reserve's boundary. Between 1935 and 1944, she purchased a total of seven properties, comprising 24 529 hectares. She then donated all the land to the Kruger Park.
She also sponsored the construction of four rest camps, built the Orpen dam, and donated several windmills as part of the Water for Wildlife campaign. Orpen Gate is named in her honour. James Orpen died only 4 days after his wife, on the 28th of May 1954. Several information boards with photographs of the Orpens can be found in the Rabelais Hut Museum, close to Orpen Gate.
By
David Fleminger