The Trading Tycoon
Joao Albasini was born in 1813, on board a ship in the bay of Oporto. His father was Italian and his mother was Spanish, but Joao became a Portuguese citizen by birth.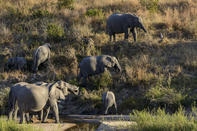 ©Roger de la Harpe
African Elephant (Loxodonta africana) breeding herd.
He travelled to Portuguese East Africa (Mozambique) with his father when he was 19, and he was left there to establish trade routes from Delagoa Bay into the interior. Joao travelled widely and became famous among the local people for his hunting prowess. He also became active in politics and was, at various times, a Vice-Consul for the Portuguese authorities and Native Commissioner of the Schoemansdal district (near modern-day Makhado/Louis Trichardt).
But it was as a trader that he won the widest renown. Albasini's main trading post was situated within the borders of the modern Kruger National Park, on the banks of the Phabeni River. The land for this store was 'purchased' from Chief Magashula in exchange for about 22 head of cattle, and the store became known as Magashulas kraal (or Villa Albasini by the Portuguese).
Creating A Convenient Legacy
From here, Albasini developed his lucrative trade network whereby African porters would carry goods on foot when the nagana disease was at its most virulent and oxen couldn't traverse the Lowveld safely. He also knew of a path through the bush that almost bypassed the tsetse fly belt, with only a short stretch of a few hours in the danger zone, and this was similarly exploited as an ox-wagon route. Several satellite camps were established to support his various enterprises.
With all the traffic going and coming from the coast, his trading store became a busy commercial hub. Sportsmen eager for a spot of elephant hunting would also use the store as a convenient base. To feed his guests and the native porters, Albasini started cultivating crops and hunted lots of game. He lived at Magashula's Kraal for only two years, from 1845 to 1847, but this was enough to make it a contender for the first European settlement in the Lowveld.
A Well-Known Figure
He then left the Lowveld and moved to the farm, Goedewensch, at the foot of the Soutpansberg mountains. From here, he continued to supervise his little empire. He also organised a monthly mail run to Lourenco Marques as part of his vice-consular duties. As a major employer, Albasini soon became a well-known figure among the local people.
They called him 'Juwawa', in imitation of his Christian name, Joao. Despite his once-considerable wealth, Juwawa died in poverty in 1888 and his Phabeni store fell into disrepair. The ruin was stabilised and somewhat restored in 1979. The remains of Albasini's store, along with several information boards and displays, are located a short distance from Phabeni Gate.
By
David Fleminger