Unique Flavours
For those holiday-makers who savour the activity of trying their vacation destination's local cuisine, South Africa will not disappoint.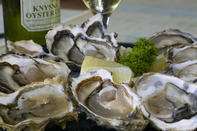 ©Roger de la Harpe
If you find yourself on the coast of South Africa, you should definitely sample oysters.
Every province has a unique food and drink menu based on the local inhabitant's culture and way of life, so tourists are spoilt for choice. From five-star restaurants to small cafes and bistros, South Africa caters for all tastes and purses.
For lovers of seafood there are many excellent seafood restaurants and a few special treats for lovers of fishy fare. In summer, the West Coast features open air beach restaurants, which are very casual and offer an enormous range of seafood all cooked on an open fire.
Oyster lovers will revel in the quantity, quality and variety of the delicacies on offer all along the Garden Route where you can choose between cultivated or wild oysters. The Wild Coast is renowned for its seafood and even the most humble establishments offer enormous seafood platters for a reasonable price and may even feature wild oysters and lobster legs as bar snacks. In Durban the freshest fish can be eaten in restaurants in the harbour and yacht basin.
Other local attractions include traditional South African food. This ranges from sweet, fruity, spicy Malay curries to hearty African food such as putu (a grits-like maize porridge) and, of course, the ever-popular South African braai (similar to a barbecue).
In Durban, the large Indian population contributes to a wealth of good curries. Game meat and the unique ostrich meat feature heavily on local menus and Karoo lamb is claimed by many to be the best in the world. But all those meaty attractions are no reason for vegetarians to despair as the majority of restaurants can always create something delicious for them.
Wine Routes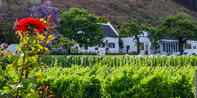 ©Ann Gadd
If you are an avid wine connoisseur, you will agonise about not being able to visit the other hundred wineries during your South African holiday. That's because there are fourteen separate wine routes, all of which offer tasting as well as many other attractions.
There are a number or scenic wine routes in the Western Cape that allows tourists to sample a range of top-quality, locally produced wines. The coastal and inland regions of the Western Cape are blessed with gorgeous mountain ranges, valleys and riverines that are perfect for grape growing and winemaking.
Popular routes include old vine areas like Paarl, Stellenbosch and Franschhoek, where one can sip on a cold glass of Chardonnay while taking in stunning mountain views. In the Overberg, the Breedekloof, Robertson, Wellington and Bonnievale wine routes are popular spots to sample crisp white wines and intense reds. Up the West Coast, tourists can indulge in wine tastings in the towns of Swartland, Darling and Vredendal.
The Cape Coast and Garden Route are newer additions to the wine culture of SA, so if you find yourself in Hermanus, Stanford or Napier, you'll be able to try some coastal wines. The Klein Karoo wine route includes Outshoorn, Klawer and Prince Albert. In the Eastern Cape, KwaZulu-Natal and the Northern Cape, there are wine estates dotted around small towns with a charming atmosphere.
Almost all wine estates have a restaurant for savoury or sweet indulgences, and more recently, estates have started offering kids' activities like pony rides, jumping castles and face painting to keep the little ones entertained while you enjoy your wine.