Jazz Saxophonist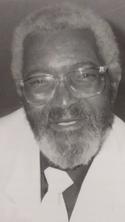 Christopher Columbus Ngcukana was a gifted jazz musician in the 1940's. He grew up in the Langa township and is known as one of the pioneering musicians of Langa jazz. He left school at 16, found employment and started singing in Bantu Young Ideas vocal group.
In 1944, he began learning trumpet under the legendary Tem Hawker to fulfil his great desire to play a musical instrument. He ultimately replaced Moses Molelekoa on trumpet in Temmy Hawker's Harmony Kings big band. He also performed as a tap dancer and singer with various troupes entertaining the troops passing through Cape Town during World War II.
In 1949, he formed his own band, the Swingettes. He returned to playing saxophone, occasionally playing trumpet and taught fellow musician 'Cups 'n Saucer' Nkanuka saxophone. The Swingettes disbanded when Cups left to join Merry Macs. Ngcukana then played sax in various big bands around Cape Town.
He played background sax for vocal groups at parties and collaborated with trio The Hip Cats. In 1953, he left for Port Elizabeth to form the Junior Jazz Men. After a four year break from music, Ngcukana joined Alfred Herbert's African Jazz and Variety. He later formed the 12 Disciples of Jazz with Cups Nkanuka in 1960 and became known as the "High Priest of Jazz".
The late musician Basil Coetzee was quoted saying Ngcukana was dubbed 'Christopher Columbus' for his unfailing ability to continue discovering new sounds. Not only was he a talented musician, but he also enjoyed composing music. He composed instrumentals in African-jazz and progressive-jazz idioms for bands that he played with or led over the years.
His works had both an African and Indian sound. Ngcukana's sons, Ezra and Duke, became famous local jazz musicians as well and continued the Ngcukana legacy. Duke had the following to say about his father and the Langa Legend's musical talents: "In terms of proficiency, technically, we are no way near those guys.
They were very technical. They knew what they were doing. It's amazing what they achieved on their own, without the help of a formal school. Some people got to share their skills, and others got to share their creativity."