Aspro Sipoyo was a gifted artist from Langa in the Western Cape who excelled at various creative endeavours. He was born in 1938 and grew up alongside musicians, performers and academics. He is also the uncle of legendary South African jazz singer Sylvia Mdunyelwa. Sipoyo was a smart, creative person - he was not only a talented performer but a brilliant student as well.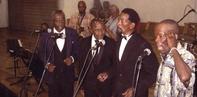 (From left): Dan Klaas, Zandi Ntshuntshe, Mabhulu and Aspro Sipoyo.
He was a tap dancer, soloist, composer and bass player, and studied subjects like Latin, mathematics and English. In his youth, Sipoyo formed the jazz a cappella/vocal group 'The Harmony Jiks' with fellow musician Diliza Dyasi.
He was known as the 'young Sammy Davis Jr.', a famous American performer, by his peers. He was also part of the Junior Modern Choppers along with Derrick Tema, Buggs Gongco, Kele Tyiwa and Sebi Mahloane. Later Sipoyo mentored numerous local musicians, including Langa legend Victor Ntoni.
His mentorship of Mthobeli Guma, Nopinki Ngxangane, Elijah "Mprench" Klaasen, Duke and Ray Ngcukana led to the formation of the jazz a cappella group 'The Semitones'. Sipoyo was an accomplished local legend in Langa - his legacy transcended his musical performances as his mentorship of young musicians helped shape a new generation of Langa musicians.