Numerous Habitat Types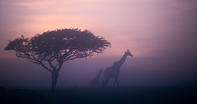 ©Roger de la Harpe
Mapungubwe is characterised by a combination of Mopane Bushveld and savannah vegetation. The numerous habitat types within the park have resulted in a high species diversity. There are at least 24 Acacia tree species and 8 Commiphora. The ubiquitous mopane tree, identifiable by its butterfly-shaped leaves, also harbours the delectable mopani worm (Mashonza or Masonja). These edible grubs are widely consumed across the Limpopo province and should be tried by all adventurous tourists.
The Giants of the Park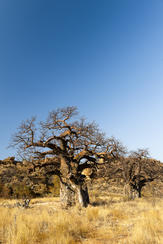 ©Roger de la Harpe
The giants of the Mapungubwe National Park are undoubtedly the baobabs (Adansonia digitata).
These ancient trees were already old when the people on Mapungubwe Hill were burying their kings, and they only grow more majestic with age.
They are the elephants of the plant world, towering over everything. Their enormous girth, lofty height and rumpled bark is something to be marvelled at.
They are sometimes called upside-down trees because, when they have no leaves, the untidy branches are thought to look like roots sticking up into the sky.
Along the Limpopo flood plain, the trees grow into a dense riparian fringe with a closed canopy.
This forest of fever trees, leadwoods, camel thorns, ilala palms and nyala berries (mashatu) is a lush playground for a large population of monkeys and birds.
Alternating Valleys and Ridges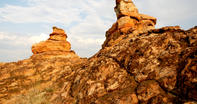 ©Shem Compion
The scenery in the Mapungubwe National Park is unusual and dramatic. Over the millennia, what was once a high plateau has been eaten away to create a landscape of alternating valleys and ridges. At the edge of the Limpopo, the remains of this plateau give way to a steep escarpment that descends to the river's flood plain. The altitude ranges from 300 to 780 meters above sea level.
The isolated hills and koppies of the region, such as Mapungubwe, were created when a layer of Clarens Sandstone became heavily eroded over the aeons, until only a number of free-standing outcrops were left. This cap of red rock (described as 'petrified desert dunes') combines with the yellow grass in the valleys to give the visitor a vivid sense of colour.
The Mapungubwe Reserve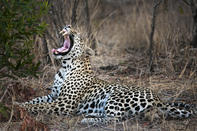 ©Roger de la Harpe
Although its primary attractions are cultural rather than faunal, the Mapungubwe reserve contains 4 of the Big 5. It's only missing buffalo, because of the fear of foot and mouth disease. Lions have been spotted from time to time, but it is thought that they are migrants from the Botswana side and do not live in the area permanently.
There are many species of buck in the park, including: eland, blue wildebeest, waterbuck, bushbuck, duiker, red hartebeest, kudu, impala, klipspringer, steenbok and gemsbok. Other animals include leopard, elephant, zebra, giraffe, warthog, bush pig, baboon, badgers, sivets, porcupine, caracal, vervet monkey and aardvark. Cheetah, wild dog, white rhino and hyena have also been spotted, but they are rare.
The park contains a full complement of rodents, reptiles, birds and insects, including the Little 5. That is elephant shrew, rhino beetle, buffalo weaver, leopard tortoise and ant lion. Not all of these little creatures are harmless, however. Pythons and black mambas are endemic, and at least nine scorpion species have been identified in the park. March to May is the best time for game viewing; November to March is best for birding.By
David Fleminger