Goldie Qayiya shares some memories growing up in a traditional Xhosa household.
Childhood Memories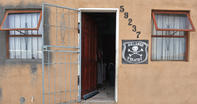 ©Eric Miller
When I turned 10, I became old enough to help my mother and father. I knew how hard they worked and was intensely proud of them. So every morning I took up my broom to sweep the yard with eagerness, trying to become as good and clever as they were. If I had dared to snuggle down into the warmth of my blankets, my father would have come with his little stick to make sure I got up. There was no question of disobeying him, not then or ever. We were well trained, all five of us siblings, to work hard, like he did, without getting tired. So from my tenth birthday onwards, four o'clock was the time that I got up.
Culture of Respect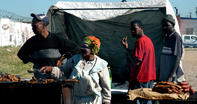 ©Eric Miller
When it was time for my virginity test, my mother had bought a white handkerchief for the occasion. If the women found I was still a virgin, one of them would go outside and wave the handkerchief to the men at the kraal. If I was not a virgin, the woman would come outside without the handkerchief. I was not scared of the test, because I had never had a boyfriend.
For me, the women waved the white handkerchief. All the men relaxed, started smiling and lit up their pipes and cigarettes. 'Thank you, thank you,' they called out to all the women. That afternoon my father slaughtered a sheep in my honour and, in the evening, we had a big braai to celebrate. The virginity test was one more custom that bore out our culture of respect. It was hard for us young girls, but we never objected because it was part of life and I, for one, never did anything my parents did not wish.
A Xhosa Marriage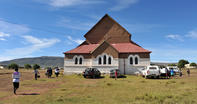 ©Eric Miller
Both my parents were qualified teachers and I loved school. I wanted to be a teacher too, so after three years of high school, I went to teacher training college. I passed the course but I could never work as a teacher, because during the last year of the course, I had to get married.
My father chose my husband, Otto Qayiya, and our marriage ceremony took place over two days, the fifth and sixth of January 1965.
We wrote many invitations on tiny pieces of paper and gave them to the young children to take to the principal at school. At break time, all the children were given one of the little invitations to take home. That way, the entire village knew about it. This is the way we used to spread the word about a wedding.
We were married in the Anglican Church, then went to Otto's house where everyone was waiting for us outside, cheering; the women in their white gloves and smart pink and blue outfits of the 1960s, and the men in their black suits and white shirts. We spent some time greeting everybody and shaking their hands, then went inside for dinner. Four sheep and one big cow had been slaughtered. It was a huge feast with meat, stamped mielies and rice for the old people.
Traditional Customs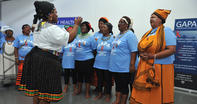 ©Eric Miller
Most people in the rural areas still wore traditional clothes when I was growing up. The women had just skirts and beads and the men wore blankets around their shoulders, tied at their waists. These people did not go to church and kept their children out of school to look after their vegetable fields and cows, sheep and goats. Things were very traditional.By
Jo-Anne Smetherham