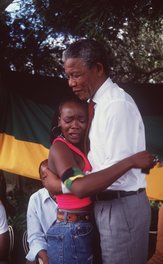 ©Dr Peter Magubane
An emotional Brenda Fassie, South African pop diva, embraces Mandela.
Brenda Fassie, also known as MaBrr, known for her unique music style, could turn any subject into a song. Infamous for getting a full house of politicians to "dance without care" including Mandela during one of her performances.
Mandela was known for loving music and was often photographed dancing at events around the world. He once said, "Music and dancing makes me at peace with the world..and makes me at peace with myself."
"And if they can learn to hate, they can be taught to love." ~ Nelson Mandela