Where Bushveld Meets Kalahari
Many of the farms described by writer Herman Charles Bosman in his short stories no longer exist, quite a number having been incorporated into Madikwe Game Reserve.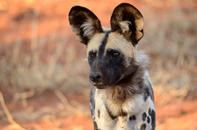 ©Karl Svendsen
Wildlife that was so plentiful in his character Oom Schalk's day had mostly been shot out by the late 20th century and it was nigh impossible to imagine a leopard joining your siesta in the shade of a withaak on the slopes of Abjaterskop. But that's all changed and today there are plenty of leopards in the neighbourhood of Abjaterskop – and bigger cats too – for the famous mountain is now on the edge of Madikwe.
Located on the western border of North-West Province, Madikwe is all about big skies, wide-open plains, the meeting of Bushveld and Kalahari and all the wonderful diversity this entails. It offers 75 000 hectares of malaria-free wilderness. Opened in 1991, Madikwe is made up of reclaimed farmland dotted with inselbergs. The reserve lies on an ecotone where sweet mixed bushveld meets arid Kalahari savanna.
The wide range of habitats makes for excellent birding, with more than 350 species recorded. The park has become famous for its African wild dogs, but it's also great for Big Five viewing and cheetahs can often be spotted hunting the grasslands.
Marico Moon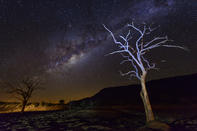 ©Roger de la Harpe
"I have seen the moon in other places besides the Marico. But it is not the same there. It does strange things to you, the Marico Moon, and in your heart are wild and fragrant fancies, and your thoughts go very far away."
Madikwe's People Come First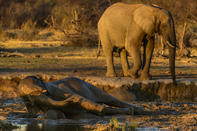 ©Roger de la Harpe
Madikwe: big skies, wide open plains, the meeting of Bushveld and Kalahari and all the mercurial diversity this entails. It's an enchanting and little-visited part of the country, but the rewards are there aplenty. Try Tlou Dam at sunset and you're likely to encounter a crush of animals coming to drink: elephants jousting, giraffes lowering their necks like toppling skyscrapers and queues of patient antelope.
Madikwe is run as a three-way partnership between the state (represented by its board), local communities and the private sector. Unlike almost all state-owned game reserves in Africa, the approach towards conservation adopted at Madikwe puts the needs of people first. The board believes that if parks are to succeed in developing countries, then local communities must benefit significantly from wildlife conservation.
By
Justin Fox