Off the Beaten Track
Little known and off the beaten track, the malaria-free Madikwe Game Reserve in the North West Province of South Africa, is utterly beautiful with Big 5 wildlife and the endangered African Wild Dog.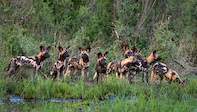 ©Roger de la Harpe
Madikwe Game Reserve is one of the best places to see Wild Dogs.
Most of the area you'll traverse is overlooked by the Tweedepoort Mountain Range, a long lizard of ancient red gabbro rock, which divides the park into northern and southern regions.
On the cusp of the Kalahari, it has a plethora of general game species as well as the Big Five. Then there's the mascot of the reserve, the African Wild Dog.