Malaria-Free Wilderness
Madikwe Game Reserve lies in the heart of the Marico, an evocative corner of South Africa made famous in the short stories of Herman Charles Bosman.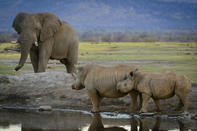 ©Roger de la Harpe
African Bush Elephant (Loxodonta africana) and White Rhinoceros (Ceratotherium simum). Madikwe Game Reserve.
Located on the western border of North West Province, Madikwe offers 75 000 hectares of malaria-free wilderness. Opened in 1991, it's made up of reclaimed farmland dotted with inselbergs. This is classic Oom Schalk Lourens country celebrated in the books of Herman Charles Bosman.
Excellent Sightings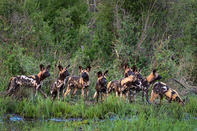 ©Roger de la Harpe
African Wild Dog (Lycaon pictus) pack. Madikwe Game Reserve.
The reserve lies on an ecotone where sweet mixed bushveld meets arid Kalahari savanna. The wide range of habitats means that birding is very good, with more than 350 species recorded.
The park has become famous for its African wild dogs, but it's also great for Big Five viewing and cheetahs can often be spotted hunting on the grasslands. Madikwe offers more than 20 private lodges, each with a different atmosphere and mostly catering to wealthier guests.
By
Justin Fox