Two Billion Years Ago
Around two billion years ago, a meteorite about the size of Table Mountain hit the earth near to where the town of Vredefort stands today, in the northern Free State.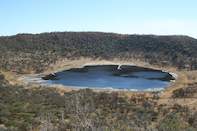 ©David Fleminger
The Tswaing Crater near Pretoria.
The resulting 1 000-Mt blast vaporised some 70 km³ of rock, leaving a crater about 380 km in diameter This. however, has now all but eroded away, leaving a dome of granitic rock that was created by the rebound of the earth's crust. This concentric ring of hills. between Vredefort and Parys, constitutes the World Heritage Site.