Venda culture has arisen from diverse origins. Many Venda see themselves as traditionalists, but their culture has been very dynamic and adaptable.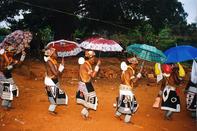 ©Dr Peter Magubane
Venda women during an initiation ceremony.
In the past, they controlled a vast area in the north of South Africa. Today, as a result of land seizure by white settlers in the late 19th and early 20th centuries, and the apartheid policies from the 1960s, they are centred in the north-east, mainly around Louis Trichardt and Sibasa in Northern Province. Groups are also found in south-eastern Zimbabwe. Fanciful theories have been used to explain the origins of the Venda, but recent evidence has revealed them to be an amalgam of groups.