Peaked Picturesque Silver Setting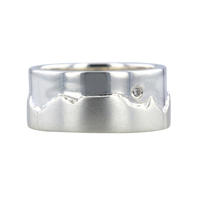 Firmly set with an iconic, picturesque landscape, this ring stands the test of time. The designer has taken great care in crafting this magnificent rhodium-plated sterling silver ring.
The ring has a matte finish, making it understated yet eye-catching with Table Mountain's skyline embossed on it.
It is finished off with a 0.01 ct diamond resting between Table Mountain and Lion's Head, symbolising a full moon. It echoes the iconic mountain and the silhouette it casts over the Mother City.
Priced From: US$160
Eye Candy for the Neck
Striking to the eye, this silver disc is no ordinary pendant. Table Mountain is finely engraved onto the rhodium-plated sterling silver disc and sparks the eye with a 0.03 ct diamond that can be interpreted as the African sun or moon sitting high in the sky, hovering over the majestic peaks below.
The necklace is fine and dainty yet leaves a bold impression on anyone who encounters its grace. The designer captures the essence of South Africa's Mother City on a 45 cm rolo chain that will spice up an elegant evening dress.
Priced From: US$130
By Jewel Africa