Dipped in Silver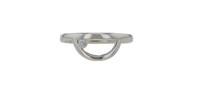 The elegance of this ring is apparent by the clear and precise curves. The design focuses on the sleek rhodium-plated sterling silver band coupled with a half moon design and 0.02 ct diamond in the upper corner. The jeweller's half moon design is a metaphor for fertility and the circle of life.
The ring has a presence; it embodies new beginnings and elegantly takes shape on anyone who wears it. It's a true masterpiece that will leave all other jewellery in the box.
Priced From: US$90
Studded by Grace
These earrings are charged with passion and echo the sophistication of finer jewellery that is designed for true elegance. The half moon design is set off by an inner circle that sparkles with a 0.02 ct diamond set in rhodium-plated sterling silver, leaving you breathless from the understated sophistication these earrings hold.
Elongated silver at the back of the earrings allow the wearer to put them on with ease and show off their true beauty without effort.
Priced From: US$120
By Jewel Africa