©Eric Miller
Vineyards in the Cape Point region of Western Cape.
Sauvignon Blanc is very important to the South African wine industry; it is our bestselling varietal of white wine. A delicate and aromatic grape variety, it is mostly enjoyed as an aperitif and often as a very young wine.
Styles of Sauvignon Blanc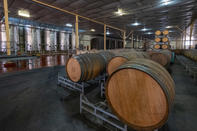 ©Chris Daly
Maturation barrels made from fine French oak.
What is interesting though is the evolution of Sauvignon Blanc.
There are about five distinct styles, some of which are regionally inspired, whilst others are aesthetically influenced.
Bursting onto the scene in the late 1980s as an easily recognised fresh, cut grass and pyrazine-driven style, Sauvignon stylistic simplicity soon developed more complex and regionally-derived styles. The tropical fruit-driven styles are in response to the success of the wines from New Zealand's Marlborough region. Wines with fynbos and black currant notes are typically found on the wines from Cape Point in the Overstrand.
Sauvignon Blanc is mostly made in a very reductive style to protect its delicate aromas, but there has been a move towards a more oxidative and textured style that is more akin to the wines from Sancerre, in the Loire Valley of France. These wines are shy with floral/white peach notes and a mineral savoury palate.
Yet another distinct style is the dusty, saline notes, typical of Sauvignon Blanc from the Darling and Elim region.
The most critically acclaimed South African versions, however, have been those made with the judicious use of oak, which adds more length and complexity to the Sauvignon Blanc repertoire. Previously these wines were called 'Blanc Fume', a term that has very much disappeared.