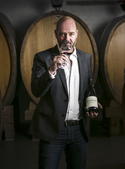 James Pietersen is a professional wine taster and currently manages the South African wine portfolio at Wine Cellar Fine Wine Merchants.
Through his vast experience with Platter's South African Wine Guide (since 2007), Wine Magazine, Old Mutual Trophy Wine Show, Amorim Cap Classic Challenge and many more, he has forged a deep knowledge of South African wines and is well-respected in the wine industry.
Together with Roland Peens and Christian Eedes, he is part of the three-person panel on all the Winemag.co.za panel tastings, South Africa's leading wine publication. These panels include the Prescient Cabernet Sauvignon and Chardonnay Reports. Previously James was a board member of the South African Sommeliers Association (SASA).
James was enticed into the world of wine whilst studying law at the University of Stellenbosch. An encounter with some Château Lynch-Bages 1982 led to an epiphany and a life-long journey in wine ensued. This has included stints in retail, wine buying and as Head Sommelier for the Slick Restaurant Group.
A keen photographer, James loves all elements of fine food and wine and never tires of learning more.