Riesling is an aromatic variety, that finds its best expressions from the Rhine Valley, in Germany, and Alsace in France. Wine made from this white grape variety is typically fragrant, with green apple, slate, and spice on the nose. The palate is usually light with a moreish acidity and often balanced by sweetness on the palate.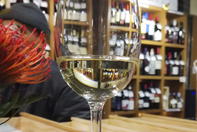 ©Marinda Louw
Riesling also produces some of the very best Eiswein ('ice wine' - made from frozen grapes) and noble rot sweet wines in the world.
'Riesling' on South African wine labels is also known as Rhine Riesling or Weisser Riesling, but should not to be confused with 'Cape Riesling'. Cape Riesling is, in fact, Crouchen Blanc, a much lesser and simple wine grape. The use of the qualifying term 'Weisser' or 'Rhine' is decreasing in South Africa.
Styles of Riesling
A cool continental climate and high altitude are crucial to craft great Riesling wines and as such, South Africa's best current examples are from the Elgin Valley.
The balance between acidity and sugar is important in wines made with this variety. This balance is best achieved with the so-called 8 x 8 formula, where an 8g/l residual sugar balanced by a high 8g/l total acidity, leads to wines with beautiful poised fruit expression balanced by a cleansing taut acid.
The best examples are refreshing and great as an aperitif, but Riesling is also a very versatile food partner, especially with Asian and spice-focused cuisines. Generally mid-priced, these wines are great alternatives to the likes of unwooded Sauvignon Blanc.
Riesling is mostly used as a single varietal and not often used in blends.
Best Regions for Riesling
There are new Riesling vineyards being planted in exciting 'new' regions like the Ceres Plateau and at higher altitudes further inland. Watch this space...
In short, there are few good examples of Riesling in South Africa, but well worth searching out.