Natural Splendour
If you decide to leave your vehicle and explore the Richtersveld Route on foot, keep an eye out for the small plants growing in the many quartzite crystal patches. Take some time to admire the 10-metre-high giant quiver trees, and oddly shaped butter trees (botterboom).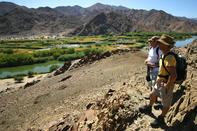 ©Jacques Marais
Hiking in Richtersveld.
Adventure & Adrenaline
Making your way up Domrog Pass and down Akkedis Pass, past the Hand of God rock formation will provide enough adrenaline for a day. Crisscrossing the Helskloof area will test any 4x4 driver's mettle. The Orange River offers excellent opportunities for river rafting and the best wilderness fly-fishing in South Africa. Plus, all of the Richtersveld is a mountain biker's dream.
Culture & Leisure
Spend a day following the footsteps of a traditional goat herder while taking unique photographs of the life of nomads. In the villages the locals may entertain guests with storytelling and traditional Nama step dancing.
The Richtersveld has been recognised as a World Heritage site by UNESCO because of its cultural significance and extraordinary natural diversity.
Buy a traditional Nama waistcoat or a kappie to take home. Early morning and late afternoon hikes are recommended to soak up the ambience of the desert and don't forget to look for the many petroglyphs in the park.
Eat & Sleep
Great restaurants and a fine hotel await you in Port Nolloth, but unpretentious community-owned guesthouses are found in almost every village. These offer a good night's sleep, and fine traditional food is available on request. If you travel with one of the local guides, they will even put up your tent and can prepare meals that will delight a tired traveller.