The 160 000ha area of dramatic mountainous desert known as the Richtersveld is a cultural landscape that is communally owned and managed. The area is made up of three key biomes; a desert biome, succulent Karoo biome and fynbos biome.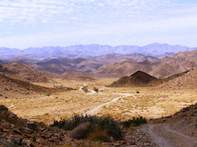 Breathtaking view of Richetersveld.
In addition to the botanic marvel, the site sustains the semi-nomadic pastoral livelihood of the Nama people, reflecting seasonal patterns that may have persisted for as long as two millennia in Southern Africa. It is the only area where the Nama people still construct portable rush-mat houses and migrate to new grazing grounds seasonally.
The only mountainous desert park in South Africa, the Richtersveld National Park is managed jointly by the local Nama people and South African National Parks. A joint management committee has been formed consisting of four people representing the National Park and five people representing the Richtersveld communities.
The Richtersveld climate is harsh and dry, with extreme temperatures of 53ºC having been recorded in the height of summer. Rainfall varies from 50-150mm per year and mainly occurs in winter. This unpredictable land depends on moisture from the early morning fogs – what the local people call 'Ihuries' or 'Malmokkies'.
This water source, which rolls in thickly from the Atlantic Ocean, sustains a remarkable variety of small reptiles, birds and mammals such as Hartmann's mountain zebra, leopard, hyena, klipspringer and meerkat. The park also has a large concentration of succulents, including the famous 'halfmens', and trees such as the quiver tree and some tall aloe species.
Sights worth seeing in the Richtersveld World Heritage Site include the famous Vioolsdrift Petroglyphs (rock engravings), thought to be of either San or Strandloper origin, Fluorspar Valley that is believed to hold an abundance of minerals under the earth's surface.
Ploegberg, a 500-million-year-old granite mountain was once farmed and hence received the name Ploegberg, referring to ploughing the land and nearby Kuboes is regarded by the local people as the village of Nama Heartland, dating back to 1844 with the establishment of a Rhenish mission station. The famous Kuboes Church dates back to 1888 and was constructed by the local community.
The town of Eksteenfontein was established in the 1940's and lies at the heart of the Richtersveld's mountainous desert.
Wondergat is a sinkhole found at the foot of Cornellskop and legend has it that it is home to a mythical supernatural creature called Heitsi Eibib.