The Richtersveld is a mountainous desert situated in the north-west corner of South Africa. To its west is the cold and rough Atlantic Ocean while the remarkable Orange River, the largest river in South Africa, winds along its northern border.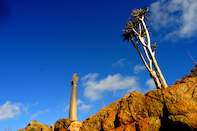 ©Jacques Marais
Views of the Richtersveld.
The Richtersveld has the highest diversity of succulent plants in the world (4849 species, of which 1940 are endemic), as well as eerie coastal mists, alluvial diamonds and truly indigenous cultures.
Activities on the Richtersveld Route include hiking, 4x4 trails, bird watching, mountain biking and donkey-cart rides. Artists, seafood lovers, geologists, photographers and those interested in indigenous culture, diamond mining and desert-living – all will find the Richtersveld enchanting.
Besides offering the above activities, the Richtersveld Route also embraces the Richtersveld National Park – a haven for the 4x4 enthusiast.
The Richtersveld National Park is unique in that it is a contractual park – jointly managed by the local community and South African National Parks. Stock farmers may continue to graze their livestock in the park, thereby maintaining a centuries-old tradition. The Richtersveld National Park is also soon to be joined with parks in Namibia and possibly Angola to create a large Transfrontier Conservation Area.
Each small village in the Richtersveld has distinctive features and characteristics. The Richtersveld Route is therefore described under the towns seen on the map.
A short background is given for each town, after which the facilities and activities are listed. In the Richtersveld, the traditional culture of its inhabitants is a feature that should be explored and enjoyed. Visiting these hospitable and friendly people is an essential part of any trip to the area.