Day 1: Cape Town to Garies
Follow the N7 from Cape Town to Piketberg and stick to the highway for a further 316km until you reach the small town of Garies.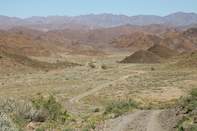 ©David Fleminger
Dirt road in the Richtersveld.
This small Namaqualand town was first established in 1845 when the land was given to the Dutch Reformed Church by the owner of the farm Goedeverwagting. While it was originally named after the farm, the former premier of the Cape Colony, John X Merriman, gave the town its current name. The name is derived from the Nama word for 'couch-grass' (Cynodon dactylon), which grows in a stream near the town.

The town consists of one long street with a church, a cluster of houses and shops that are built on the banks of the stream. Visit the Letterklip provincial Heritage site with its unique rock formations that is fortified by dry rock stone walling just outside of Garies.