One might say that Merlot is 'Pinot Noir dressed as Cabernet Sauvignon'. This thin-skinned variety is possibly one of the most difficult grapes to produce fine wine from, it is so finicky and yet, of all the red grapes in South Africa, it is still the bestselling single varietal red wine.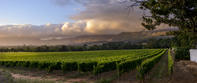 ©Roger de la Harpe
Groot Constantia vineyards, Western Cape.
Styles of Merlot
Historically from France, most famously from the Bordeaux right bank, where it is almost always used as part of a blend. Even the famous wines from Pomerol are rarely 100% Merlot.
At its best, Merlot wines have the same power and impact as Cabernet Sauvignon, but with fleshier tannins and a charming lush texture.
Mostly used in blends as a partner to the two Cabernets (Sauvignon and Franc), we do see that the New World has a huge appetite for single-varietal Merlots. This possibly finds its roots in the switch to red wine consumption in the USA after the well-published positive impact of red wine as part of the 'French paradox' diet.
Whatever the reason may be, South Africa has a good appetite for these single varietal wines. Most of our examples are best in the medium to light-bodied style and often have a touch of herbal freshness as part of their flavour spectrum.
Production of Merlot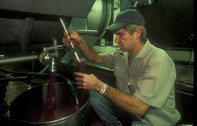 ©Roger de la Harpe
Cellarmaster testing wine.
Due to its thin skin and the fact that Merlot is prone to water stress, it is imperative that it is planted in the right areas with drainage but also in a subsoil of clay to ensure essential moisture retention during harvest. Growing this thin-skinned grape under the harsh South African sun further exacerbate the challenges of Merlot production.
Both French and Italian clones are used in South Africa to produce a handful of standout wines. Due to Merlot's sensitivity to drought, selecting the right vintages are important, as mediocre Merlot wines are often weedy and harsh.
Prominent South African Merlots
The best regions for this difficult grape variety would be the established regions of Stellenbosch and Constantia, with newer regions like Durbanville and Elgin also making some of the greatest examples of South African Merlot.