Go Mountain Biking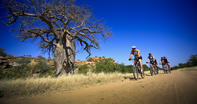 ©Jacques Marais
Cranking (also known as mountain biking) among the otherworldly giants of the tree kingdom – the baobab – on dirt roads and dirt, rock, and sand singletrack trails makes for a seriously exciting ride in Mapungubwe National Park.
Go Walk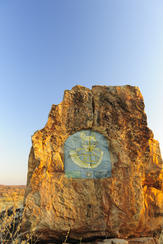 ©Roger de la Harpe
Walk along the treetop walkway to a viewing platform offering spectacular views across the Limpopo River towards neighbouring Zimbabwe and Botswana where amber sandstone outcrops rise ruggedly against the horizon. Guided walks can also be organised to rock art sites, the Mapungubwe heritage site, dinosaur footprints or the biggest baobab.
Go Drive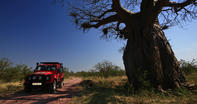 ©Jacques Marais
About 35km of the roads inside the Mapungubwe National Park are suitable for normal sedan vehicles, but a further 100km is accessible to all-terrain (4x4) vehicles. Remember to fill up in Alldays or Musina as you cannot buy petrol at the park.
Go Birding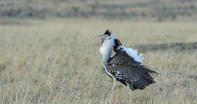 ©Shem Compion
Kori Bustard bird.
The sandstone formations, Mopani woodlands and unique riverine forest of Mapungubwe consist of baobab trees form a diverse habitat where birders can tick off 400 species, including Kori Bustard, Tropical Boubou and Pel's Fishing Owl.By
Jacques Marais