The vast array of attractions, accommodation and activities on offer along the Kokerboom Food and Wine Route make it appealing to all travellers and you can tailor your experience according to your budget, time and interests.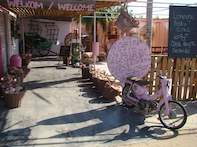 Sample local delicacies and products at farm stalls.
Visit Augrabies Falls National Park that is home to 46 mammal species and 186 bird species. You may even spot leopards on a night drive. While it provides sanctuary to many diverse species from the smallest succulents, birds and reptiles to antelope like springbok and gemsbok, there are two organisms that characterise this harsh landscape; the Klipspringer (small antelope whose name means 'rock jumper') and Kokerboom (Quiver Trees).
Go on an Orange River gorge canoe trail. The Orange River Gorge is the most spectacular and easily navigable white water section of the river. Here the river cuts through a landscape of granite cliffs with the amazing Augrabies Falls tumbling into the Orange River Gorge.
Hike the Kokerboom Hiking Trail that leads through a quiver tree forest with over four-thousand quiver trees. This trail is situated just south of the town of Kenhardt.
For the adventurous there are a number of well developed 4X4 trails that you can either brave by yourself, or make use of an experienced guide. There are also a number of adrenaline sport opportunities, including white water rafting and mountain biking.
The region is rich in history and you can enjoy a historical tour of many of the towns and villages, or take in the magnificent arid scenery on a photographic tour or scenic flight.